Winter is a magical time of year in Chicago, with the snow adding an extra sparkle to the city. You can fully embrace the season by embarking on wintry adventures such as ice skating next to Cloud Gate, sledding, and snowshoeing with views of the snowy lakefront.
There are many reasons to fall in love with winter in Chicago.
Go Ice Skating at A Unique Rink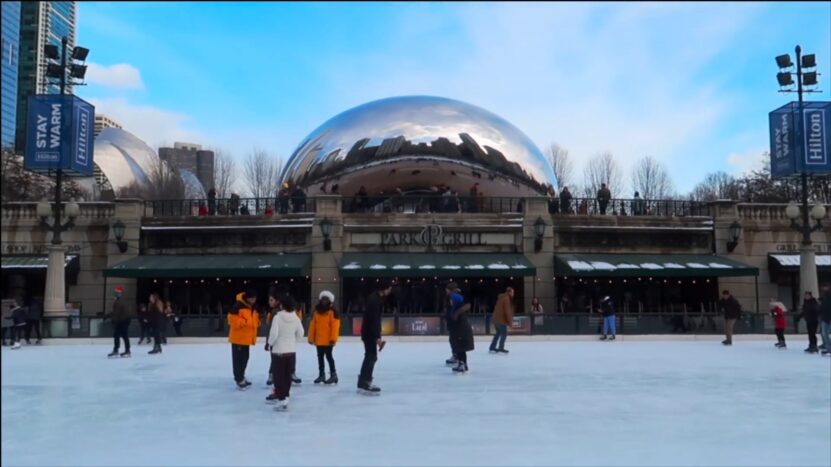 For an ultimate winter experience in Chicago, don't miss the opportunity to skate on the iconic ice rink at Millennium Park. The stunning winter views of Chicago, including Michigan Avenue, the downtown skyline, and The Bean covered in snow, will take your breath away.
Additionally, at the nearby Maggie Daley Park, you can rent a pair of skates and skate through a winter wonderland along the curvy Skating Ribbon. This path is twice the length of a traditional skating rink and features scenic pine trees and a rock climbing wall. These rinks are open from November through early March, weather permitting.
If you're looking for more places to skate in Chicago, check out the Midway Plaisance Ice Rink in Hyde Park. The rink is located on the University of Chicago campus and is situated where the first-ever Ferris wheel was constructed for the 1893 World's Fair. There's also a warming center available to thaw out before heading back onto the ice. Another option is the Sky Rink at the Peninsula Chicago, which is the only hotel ice skating rink in the city and provides great views of Michigan Avenue from its elevated position.
Enjoy Cocktails and Curling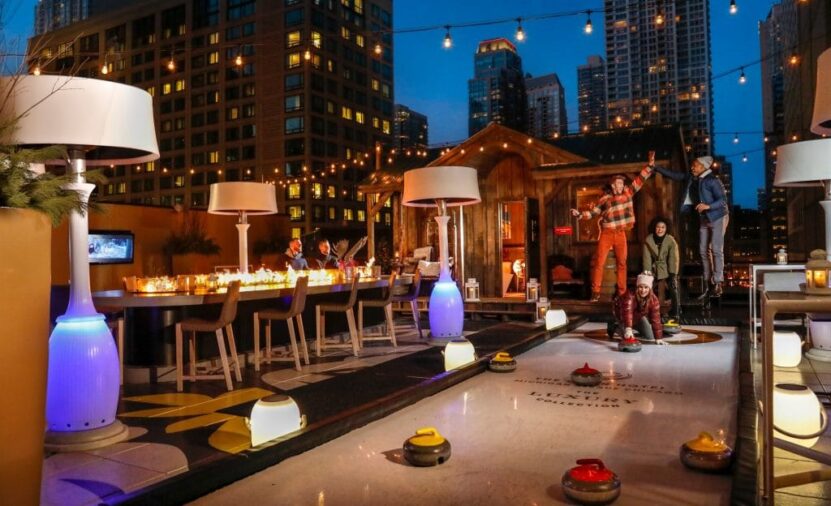 Looking for a unique winter activity in Chicago? Head on up to The Gwen hotel's rooftop curling rink for a classic game of curling, complete with signature cocktails. Cozy up by the fire pits and enjoy the full food and drink menu.
If you're a fan of beer and bocce in the summer, you won't want to miss Kaiser Tiger's outdoor curling rinks in the winter. Warm up with boozy hot chocolates and cocktails while enjoying the game.
But that's not all – a new curling experience has just opened up in the West Loop! Stone's Throw at The Emily Hotel offers four Olympic-size courts, heated yurts, and hot cocktails to keep you warm and entertained. Don't miss out on this exciting winter activity in Chicago.
Go Sledding and Snowshoeing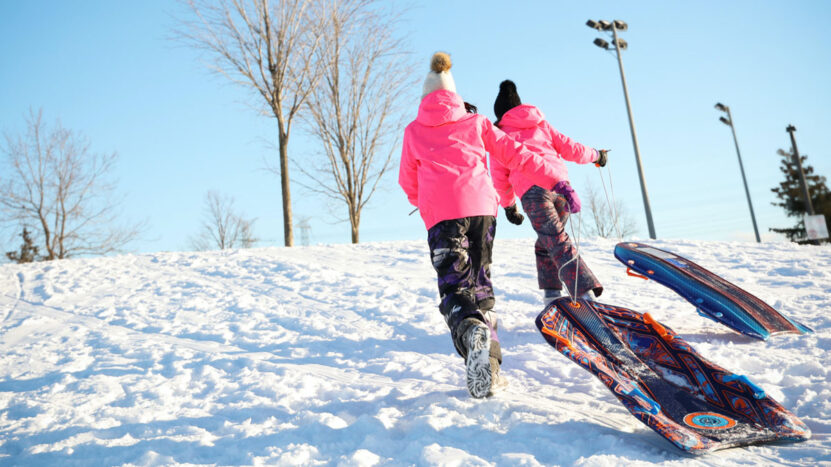 Get your adrenaline pumping by sledding down the towering hill at Soldier Field, home of Chicago Bears football. With a slope spanning more than 200 feet, this sledding hill is a must-visit for thrill-seekers, and offers a stunning panoramic view of Lake Michigan from the top.
For a more serene winter activity, go snowshoeing on Northerly Island, a man-made peninsula just east of Soldier Field. Explore winding nature trails and catch glimpses of winter birds and the beautiful Chicago skyline. If you're lucky, you may even encounter Siberian huskies, wolves, and birds of prey during the free Polar Adventure Days. Plus, you can get crafty with nature-inspired winter crafts.
Meet the Cold-Weather Zoo Animals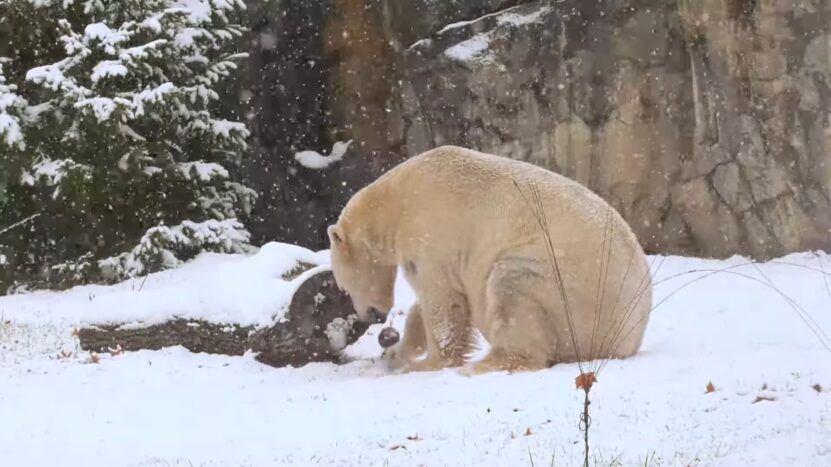 The Lincoln Park Zoo in Chicago is a free attraction that you can visit any day of the year, even in winter. Bundle up and watch the playful antics of polar bears, penguins, and snow monkeys outside in the chilly weather. If it gets too cold, head indoors to the animal houses where you can view even more creatures like gorillas and penguins up close
Snap a Snowy Selfie with The Bean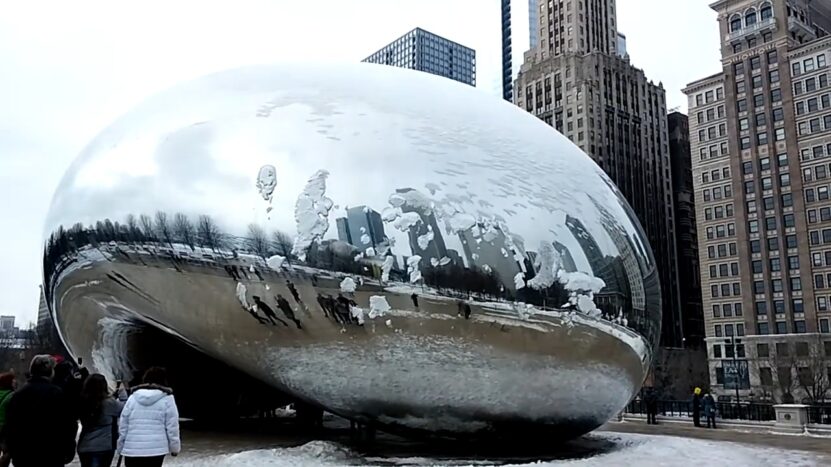 Winter brings a special charm to Millennium Park, which is home to one of Chicago's most famous landmarks, The Bean. Take a break from the cold and capture a selfie on its glistening surface before gliding down the steps to the park's free ice skating rink. There are plenty of other winter activities to enjoy at Millennium Park too!
Sip Cocktails on A Winter Rooftop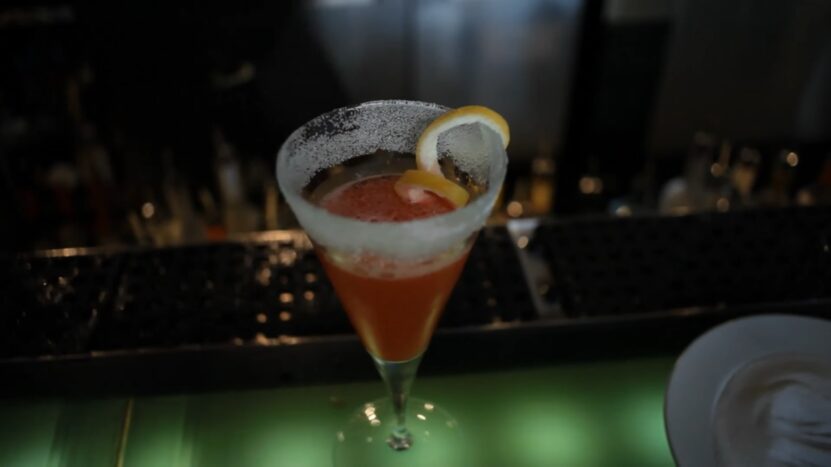 Don't let the cold weather stop you from exploring Chicago's vibrant food and drink scene. Cozy up by the fire pits, dine in heated outdoor spaces, or step into a personal greenhouse for a unique winter dining experience. For a truly unforgettable evening, try ice skating on a rooftop rink, or visit a winter-themed pop-up. And for a truly enchanting experience, reserve a personal igloo and feel like you're in your own private snow globe. Check out these rooftop spots that offer all-seasons dining and drinks.
Visit a Stunning Indoor Garden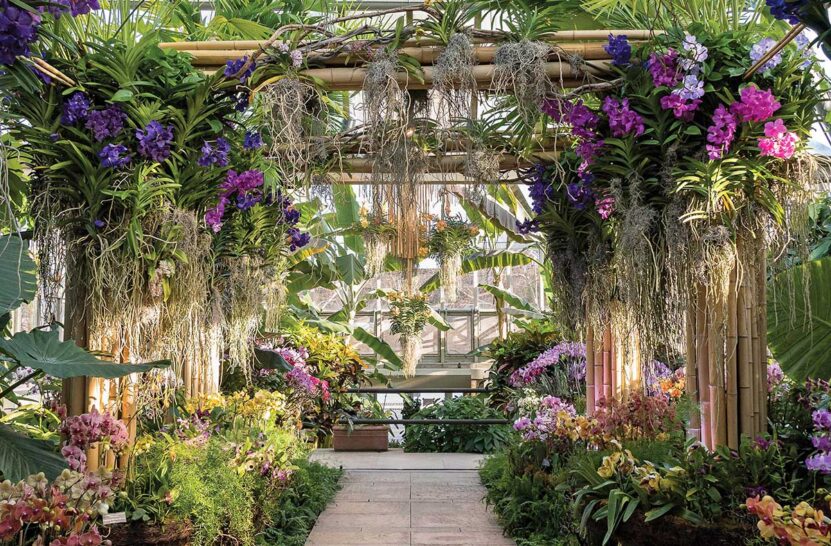 Get inside and warm up at one of Chicago's free indoor botanic gardens and conservatories. The Lincoln Park Conservatory is a free experience in historic Lincoln Park, with multiple rooms dedicated to exotic flora and flowers. And the Garfield Park Conservatory is one of the largest conservatories in the nation, occupying two acres of lush greenhouse space. Find more indoor gardensto explore in and around Chicago.
Warm up With Hot Cocoa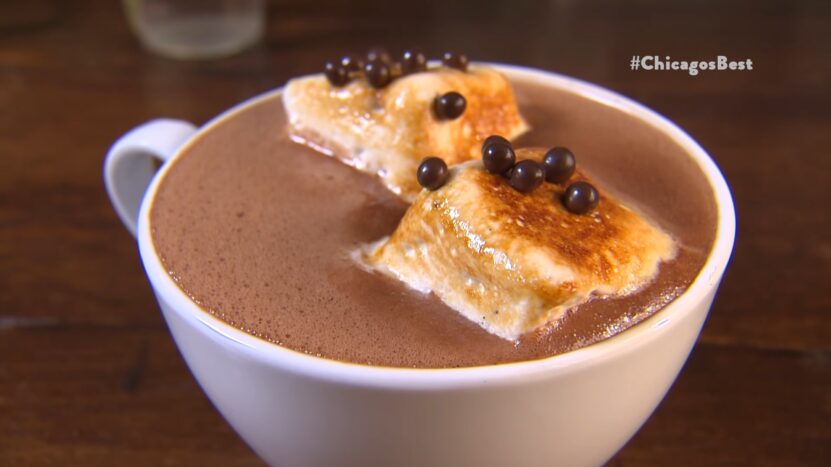 Chicago is the perfect place to warm up with a delicious cup of cocoa during the winter months. Check out Katherine Anne Confections for their rich and decadent drinking chocolate, or head to Kristoffer's Café & Bakery in Pilsen or XOCO in River North for a taste of Mexican hot chocolate. For something extra special, make your way to BomboBar in the West Loop for over-the-top, Instagram-worthy cups of cocoa.
Admire the Frozen Lake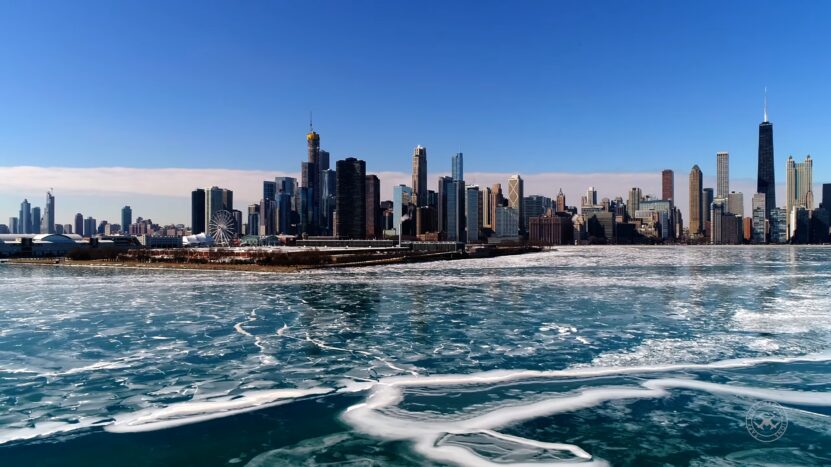 Winter in Chicago offers some amazing views of the frozen Lake Michigan from the Lakefront Trail, where you can capture some stunning shots of the skyline. Warm up after your icy adventure by exploring some of the city's best shopping spots and museums, like The Magnificent Mile or the Peggy Notebaert Nature Museum. Don't miss out on the cool museums such as the Adler Planetarium or the Museum of Science and Industry.