Las Vegas is a city that never sleeps, and while many associate it with its wild nightlife, the city also offers plenty of things to do during the day. Whether you're looking for outdoor adventures, cultural attractions, entertainment, shopping, or sightseeing, Las Vegas has something for everyone.
With hustling and bustling Las Vegas nightlife, you might think there are no things to do in Las Vegas during the day.
We can assure you that after reading our guide of 15 things to do in Las Vegas during the day you will want to start planning your Vegas day early.
Daytime Delights
1. Fall of the Atlantis
The Fall of Atlantis Show is a free attraction located at the Forum Shops in Caesars Palace, a luxury hotel and casino on the Las Vegas Strip. The show features animatronic figures, special effects, and an elaborate set that brings the ancient story of Atlantis to life.
During the show, visitors watch as two warring kingdoms of Atlantis compete for the favor of the gods. The show features impressive water and fire effects, as well as a soundtrack composed by Academy Award-winning composer Vangelis.
It is a popular attraction for visitors of all ages, and it is offered multiple times per day.
The show lasts approximately 15 minutes and is suitable for all ages. It is a great way to experience the grandeur and spectacle of Las Vegas without spending a dime.
2. M&M's World
M&M's World is a retail store and attraction located on the Las Vegas Strip, near the MGM Grand Hotel and Casino. The store is dedicated to the popular candy brand M&M's, and it features a wide variety of their merchandise, including clothing, accessories, kitchenware, and of course, candy.
The store is spread across four floors and covers over 28,000 square feet of space. Visitors can explore the various themed sections, including a wall of colorful M&M dispensers, a giant M&M's-themed race car, and a replica of the M&M's factory.
There is also a large M&M statue that serves as a popular photo op for visitors.
It is a popular attraction for families, candy lovers, and anyone who is looking for a fun and colorful shopping experience. The store is open every day of the week, and admission is free. Visitors can purchase M&M's candy by the pound, mix and match their favorite colors, or create custom personalized M&M's as a unique souvenir.
3. Bellagio Fountains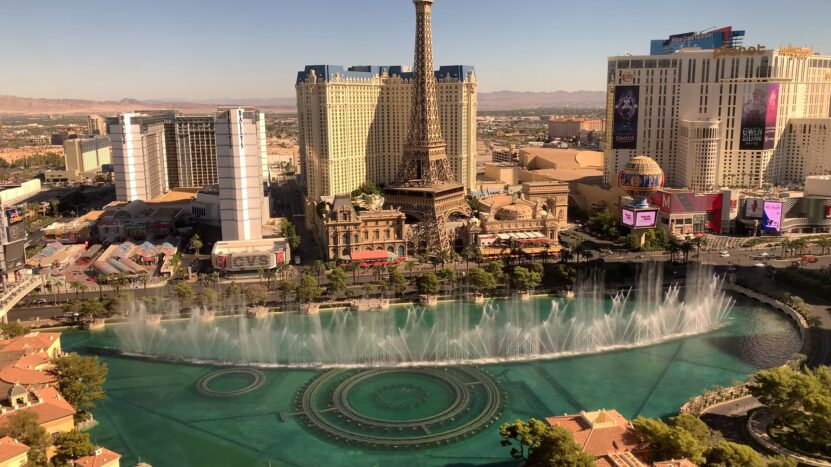 On the Las Vegas Strip, in front of the Bellagio Hotel and Casino, there is a free water and light show called the Bellagio Fountains. One of the top attractions in Las Vegas, the performance offers a coordinated display of water jets and lights to music.
A man-made lake with 1,214 water jets that spray water up to 460 feet in the air and covers an area of over 8 acres is where the fountains are located. The show features a variety of music genres, from classical to pop, and the water jets dance and sway to the rhythm of the music.
The Bellagio Fountains show is offered multiple times per day and night, and it is a popular spot for visitors to take photos and videos. The show is free to watch, and visitors can enjoy it from a variety of vantage points, including Bellagio's waterfront promenade, nearby restaurants, and cafes, or even from a helicopter tour of the Las Vegas Strip. The Bellagio Fountains are a must-see attraction for anyone visiting Las Vegas.
4. MGM Grand Lion Habitat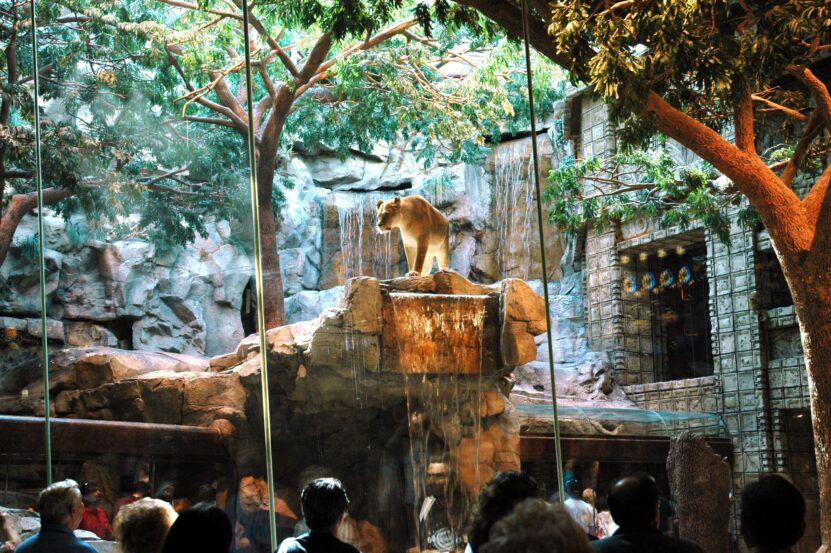 On the Las Vegas Strip, the MGM Grand Hotel and Casino have the free MGM Grand Lion Habitat. Visitors may get up and personal with a variety of live lions at the habitat, which also houses informative exhibits about the habits and protection of these magnificent animals.
The MGM Grand Lion Habitat's lions are part of a conservation effort to save the species from extinction. In a glass-enclosed habitat with a recreation of a Serengeti watering hole where the lions can relax and play, visitors can see the lions.
In addition to observing the lions, visitors can learn about the conservation efforts aimed at protecting these animals and their habitats. There are also educational exhibits about the history and cultural significance of lions in various cultures around the world.
The MGM Grand Lion Habitat is a popular attraction for families and animal lovers, and it is open daily, with multiple viewing times throughout the day. Admission is free, but donations are encouraged to support the conservation efforts of the Lion Habitat Ranch, which oversees the program.
5. Conservatory At Bellagio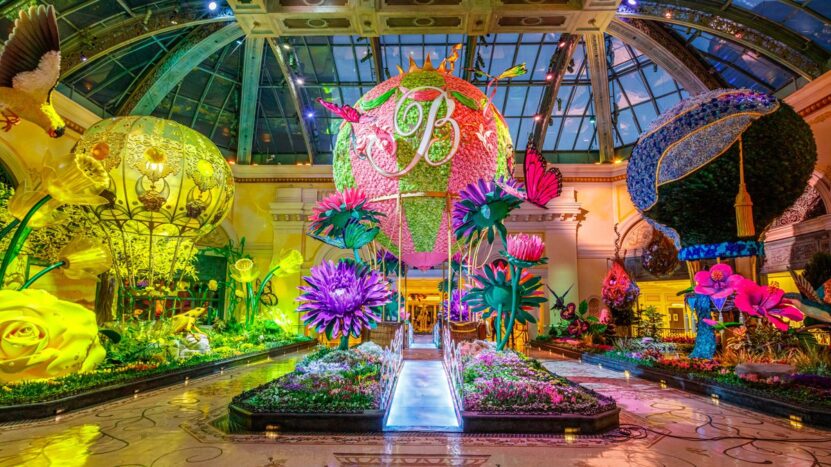 On the Las Vegas Strip, within the Bellagio Hotel and Casino is a free indoor botanical garden called The Conservatory at Bellagio. Seasonal floral displays, trees, and other natural components are arranged in the garden in sophisticated and beautiful ways on a rotating basis.
The Conservatory covers over 14,000 square feet and includes a variety of themed gardens, including a Japanese garden, a butterfly garden, and a holiday-themed display. The arrangements are made up of thousands of live plants, flowers, and trees, all hand-picked and arranged by a team of skilled horticulturists.
Visitors to the Conservatory can stroll through the gardens at their own pace, taking in the beauty and intricacy of the displays.
6. LINQ Promenade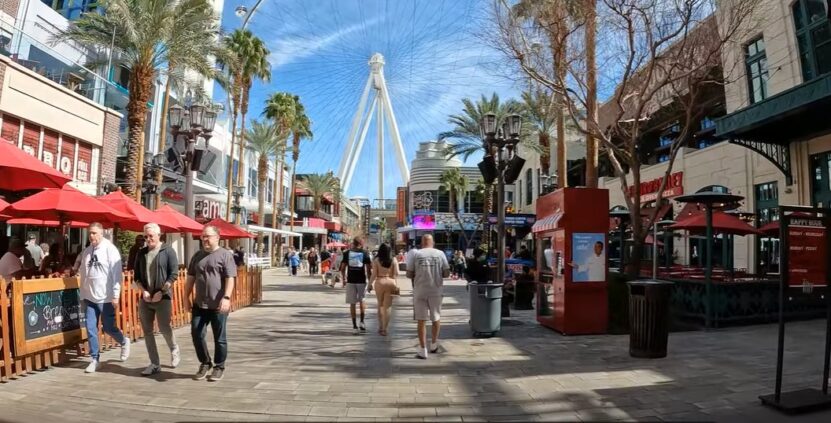 The LINQ Promenade is an outdoor shopping, dining, and entertainment district located on the Las Vegas Strip, between the Flamingo and LINQ hotels. The Promenade features a variety of stores, restaurants, and attractions, including the High Roller Observation Wheel, the world's tallest observation wheel.
Visitors to the LINQ Promenade can explore the pedestrian-friendly district, which is filled with colorful lights, music, and street performers. The Promenade is home to over 30 restaurants and eateries, ranging from casual food stands to fine dining restaurants, as well as over 20 shops selling clothing, accessories, and souvenirs.
One of the main attractions of the LINQ Promenade is the High Roller Observation Wheel, which offers panoramic views of the Las Vegas Strip and surrounding areas from 550 feet above the ground. The wheel features 28 glass-enclosed cabins, each with air conditioning and seating for up to 40 people.
7. Bodies The Exhibition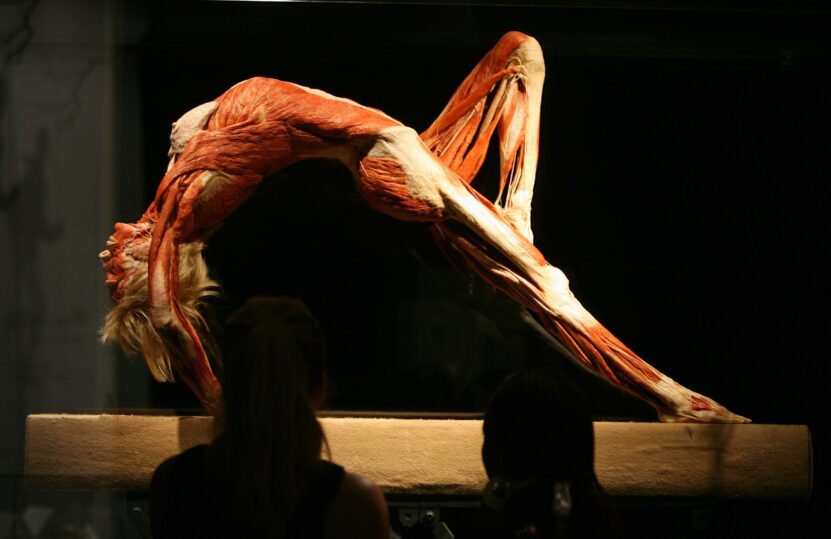 The exhibit is educational and informative, and visitors can learn about the complexity and beauty of the human body through the various displays and interactive exhibits. There are also educational displays about the history and science behind the plastination process, as well as information about healthy living and disease prevention.
Bodies The Exhibition is located on the Las Vegas Strip, inside the Luxor Hotel and Casino. It is open daily, and admission fees apply. The exhibit is recommended for visitors over the age of 12 due to the graphic nature of the displays. It is a fascinating and thought-provoking attraction that offers a unique perspective on the human body and the miracle of life.
8. Indoor Skydiving

it is a thrilling activity that allows visitors to experience the sensation of skydiving in a safe and controlled environment. Indoor skydiving is done in a vertical wind tunnel, which simulates the feeling of freefall without the need for an airplane or parachute.
One of the most popular indoor skydiving attractions in Las Vegas is the Vegas Indoor Skydiving facility, which is located just off the Strip. Visitors can experience the thrill of skydiving in a wind tunnel that is 12 feet in diameter and 22 feet tall, with wind speeds of up to 120 miles per hour.
The experience is suitable for visitors of all ages and skill levels, and it is a great way to experience the excitement of skydiving without the risk or expense of jumping from a plane. Visitors receive a brief training session before their flight, and they are accompanied by an experienced instructor throughout the experience.
9. Mandalay Bay Shark Reef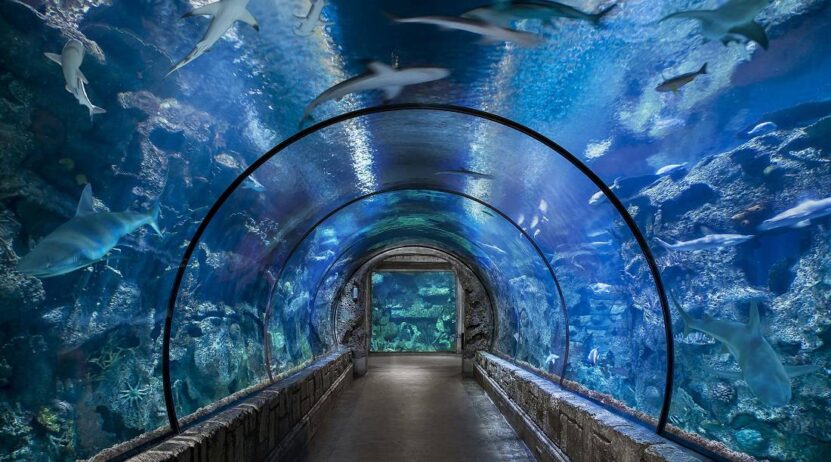 The Mandalay Bay Shark Reef is an aquarium and animal exhibit located inside the Mandalay Bay Resort and Casino on the Las Vegas Strip. The exhibit features a variety of marine animals, including sharks, rays, sea turtles, and exotic fish from around the world.
The Shark Reef exhibit covers over 1.6 million gallons of water and features a variety of habitats, including a shipwreck, a sunken temple, and a walk-through tunnel that allows visitors to get up close and personal with the marine life. The exhibit also includes educational displays and interactive exhibits that provide information about the animals and their habitats.
10. Mount Charleston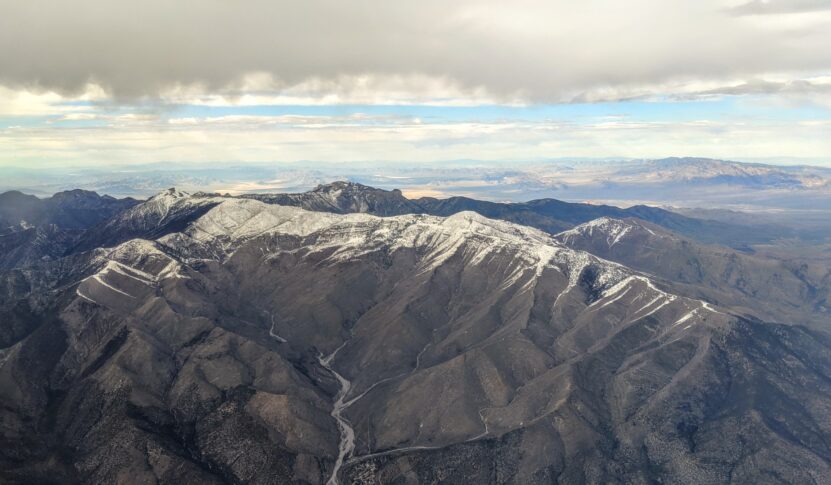 Mount Charleston is a scenic mountain located in the Spring Mountains range, just outside of Las Vegas, Nevada. The mountain is the highest point in southern Nevada, with an elevation of over 11,900 feet, and it is a popular destination for hiking, camping, and other outdoor activities.
The mountain is known for its stunning natural beauty and diverse wildlife, which includes a variety of bird species, as well as mule deer, mountain lions, and other animals. Visitors to Mount Charleston can explore the numerous hiking trails that wind through the mountain's forests and canyons, offering breathtaking views of the surrounding landscape.
In addition to hiking, Mount Charleston is also a popular destination for skiing and snowboarding during the winter months. The mountain's ski resort, the Las Vegas Ski and Snowboard Resort, features over 70 acres of ski terrain, with a variety of runs for skiers and snowboarders of all skill levels.
11. Hoover Dam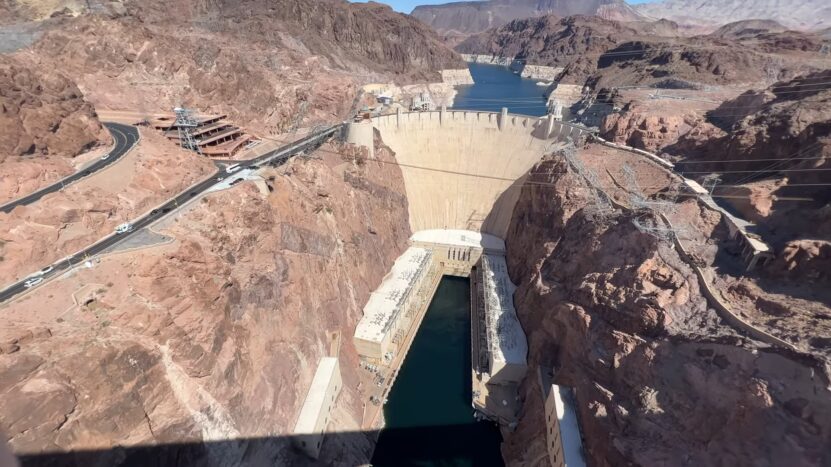 The Hoover Dam is a massive concrete arch-gravity dam located on the Colorado River, on the border between Arizona and Nevada. The dam was built during the Great Depression era, and it remains one of the most impressive engineering feats of the 20th century.
It is a popular tourist destination, attracting millions of visitors each year who come to marvel at its size and learn about its history and significance. Visitors can take guided tours of the dam and power plant, which offer an up-close look at the inner workings of this engineering marvel.
A must-see attraction for anyone visiting the Las Vegas area. It is a testament to human ingenuity and the power of nature, and it is a fascinating and educational experience for visitors of all ages.
12. Grand Canyon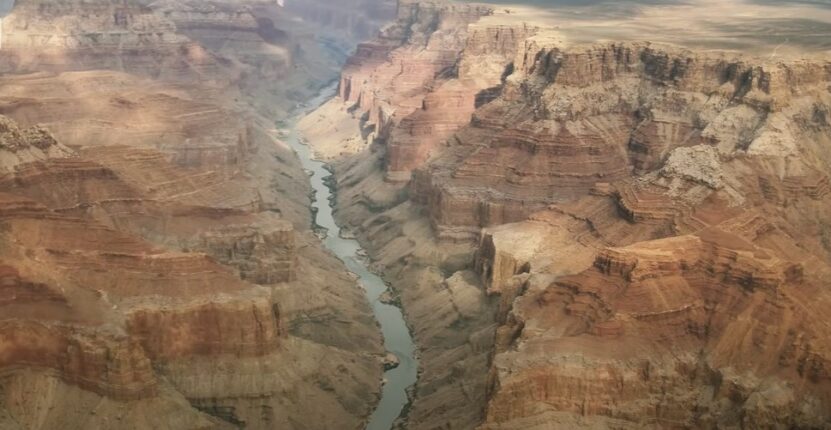 The Grand Canyon is a massive, awe-inspiring natural wonder located in northern Arizona. It is one of the most iconic and recognizable landmarks in the United States, attracting millions of visitors each year who come to marvel at its beauty and grandeur.
It is over 277 miles long and up to 18 miles wide, with a depth of over a mile in some areas. The canyon was formed over millions of years by the Colorado River, which was carved through the rock layers of the region to create this stunning geological masterpiece.
Visitors to the Grand Canyon can explore the canyon from a variety of vantage points, including scenic overlooks, hiking trails, and even by helicopter or airplane. The canyon offers a range of outdoor activities, including hiking, camping, and river rafting, as well as educational programs and ranger-led tours.
13. Lake Mead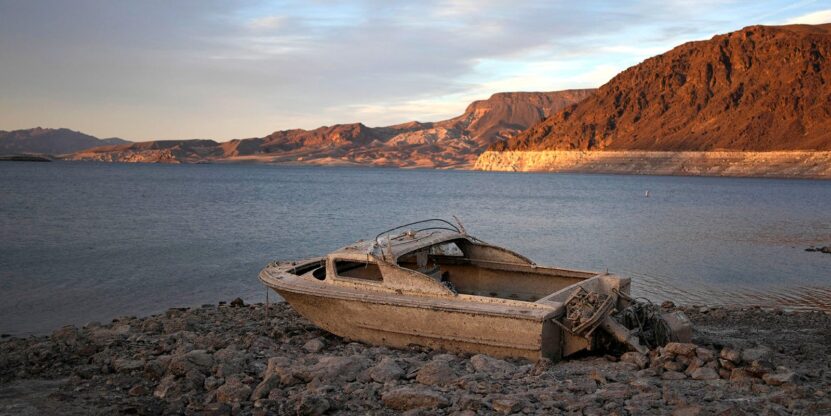 Lake Mead is a large reservoir located on the Colorado River, just outside of Las Vegas, Nevada. The lake is the largest reservoir in the United States by volume and is a popular destination for boating, fishing, and other water activities.
It is surrounded by stunning natural scenery, including towering rock formations, sandy beaches, and colorful cliffs. Visitors to the lake can explore its many coves and inlets by boat, kayak, or paddleboard, or they can fish for a variety of species, including bass, catfish, and bluegill.
14. Venetian Gondola Rides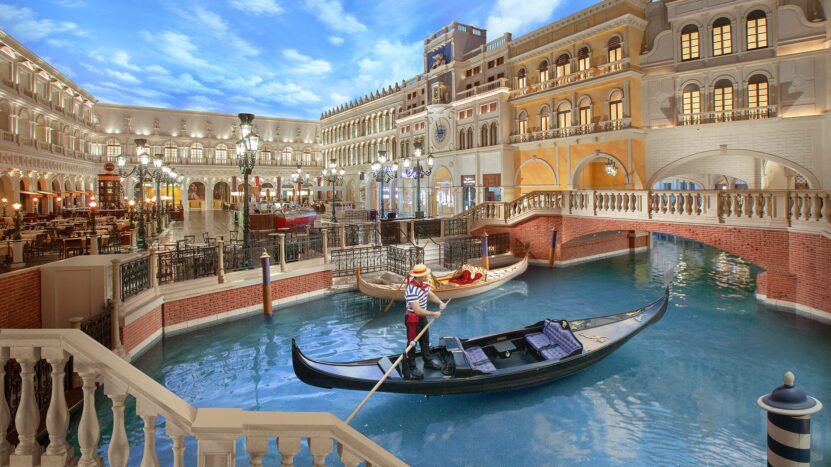 The Venetian Gondola Rides are a popular attraction located inside the Venetian Hotel and Casino on the Las Vegas Strip. The gondola rides offer visitors a unique and romantic way to experience the charm of Venice, Italy, without leaving the United States.
The gondola rides take visitors on a peaceful journey through the hotel's indoor and outdoor canals, passing by stunning replicas of Venetian landmarks, including the Rialto Bridge and St. Mark's Square. The gondolas are piloted by expert gondoliers who serenade passengers with traditional Italian songs and provide interesting commentary on the sights along the way.
15. Zion National Park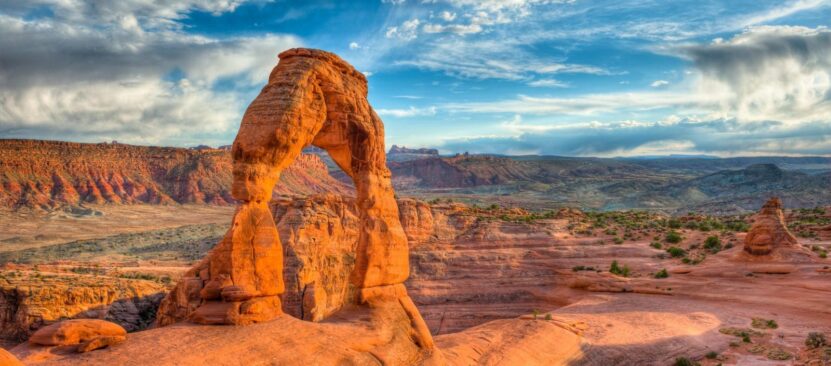 Zion National Park is a breathtaking natural wonder located in southwestern Utah, just a few hours' drive from Las Vegas, Nevada. The park covers over 230 square miles and features stunning red rock cliffs, deep canyons, and a variety of unique plant and animal species.
Visitors can explore the park's many hiking trails, which range from easy walks to challenging hikes through narrow canyons and steep rock formations. The park also offers a variety of other outdoor activities, including camping, horseback riding, and scenic drives through the park.
One of the park's most popular attractions is the Zion Canyon Scenic Drive, a 6-mile road that winds through the park's stunning canyon landscape, offering breathtaking views of the surrounding cliffs and rock formations.
FAQs
Is Vegas Fun without Gambling?
Yes, Las Vegas is still a lot of fun even without gambling. While the city is known for its casinos and nightlife, there are plenty of other things to do in Las Vegas that don't involve gambling, such as visiting museums, taking in a show, or exploring the city's vibrant cultural scene.
You can also take advantage of the city's outdoor activities and attractions, such as hiking, exploring Red Rock Canyon, or checking out the Hoover Dam. With so much to do and see in Las Vegas, you can easily have an enjoyable and memorable visit without ever stepping foot in a casino.
How safe is Las Vegas?
Las Vegas is generally considered safe for tourists, provided that you exercise common sense and stay in areas that the city has designed for tourists. The Strip and Fremont Street are popular tourist areas that are well lit and have a lot of people around, making them relatively safe.
Overall, crime rates in Las Vegas are higher than the US average but have been steadily decreasing over the years. However, there are some areas that are best avoided due to higher crime rates.
Can I Drink Vegas Tap Water?
Yes, the tap water in Las Vegas is safe to drink. The water in Las Vegas meets or exceeds US standards set by the Safe Drinking Water Act, administered by the US Environmental Protection Agency. The water is tested regularly and is free from any contaminants that could potentially be harmful. Some people don't enjoy the taste of the water, but it is perfectly safe to drink.
What Happens if You Cheat ?
Cheating in Las Vegas is a serious offense and can result in severe penalties. If you are caught cheating at a casino, you can be charged with a felony and face up to six years in jail as well as a $10,000 fine.
You may also be permanently banned from the casino and may face trespassing charges if you try to re-enter the casino. It is best to avoid cheating at all costs, as the consequences are severe.
What Month Is Best to Visit Vegas?
The best time to visit Las Vegas is from March to May and from September to November. These months offer the best combination of weather and prices, and they are the times when the city is least crowded. Temperatures are mild and comfortable during these months, with average daily highs ranging from 65-80 degrees Fahrenheit.
City is alive with events and activities, making these months the perfect time to visit Las Vegas.
What Is the Coldest Month ?
The coldest month in Las Vegas is December, with an average high temperature of 57°F (14°C) and an average low temperature of 39°F (4°C). January is also a relatively cold month in Las Vegas, with an average high temperature of 57°F (14°C) and an average low temperature of 36°F (2°C).
Conclusion
Las Vegas may be known for its wild nightlife, but there are plenty of things to do during the day that will make your visit to this vibrant city unforgettable. From outdoor adventures and cultural attractions to entertainment, shopping, and sightseeing, Las Vegas offers something for everyone. So, whether you're a first-time visitor or a seasoned traveler, make sure to add these 15 things to do in
If you find this article useful, and you are interested in discovering more about different travel destinations, check out our other posts for more information and inspiration: