Southern California, also known as SoCal, is a region located in the southern part of the state of California in the United States. It is home to some of the most famous cities and attractions in California, including Los Angeles, San Diego, Disneyland, Hollywood, and Santa Monica.
The region is known for its warm and sunny climate, which is perfect for outdoor activities such as hiking, surfing, and beach-going.
The coastline stretches for over 800 miles, providing plenty of opportunities for enjoying the Pacific Ocean.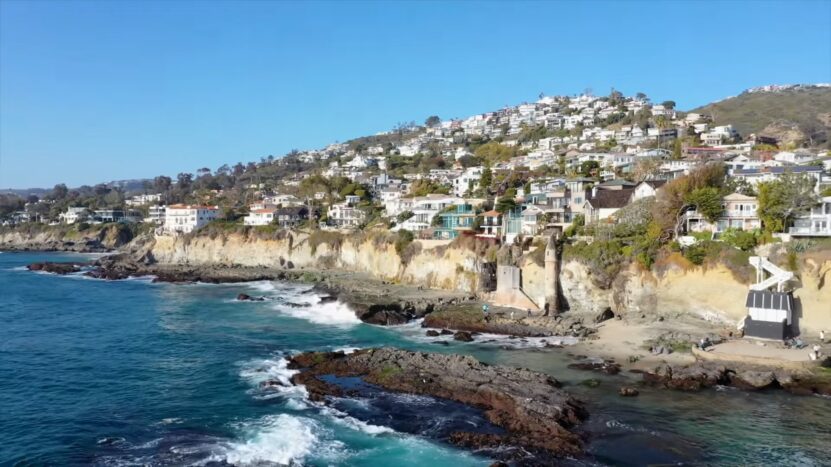 Los Angeles, the largest city in Southern California, is a global center for entertainment, culture, and business. It is home to world-famous attractions such as the Hollywood Walk of Fame, Universal Studios Hollywood, and the Getty Center. The city is also known for its diverse neighborhoods, ranging from the glitz and glamour of Beverly Hills to the bohemian vibe of Venice Beach.
San Diego, located further south, is known for its beautiful beaches, world-class museums, and the famous San Diego Zoo. It is also home to several military bases and has a significant presence in the defense industry.
In addition to its cities and attractions, it is also home to several prominent universities, including the University of Southern California, the University of California, Los Angeles, and the University of California, San Diego. The region is also known for its innovation in industries such as technology, aerospace, and biotechnology.
Overall, it offers a unique blend of diverse cultures, breathtaking natural beauty, and exciting urban experiences, making it a popular destination for tourists and a desirable place to live for many.
With a large population and sunny days, Southern California offers the prime environment for water park fun.
Below Is a List of The Top 5 Water Parks in Southern California.
1. Knott's Soak City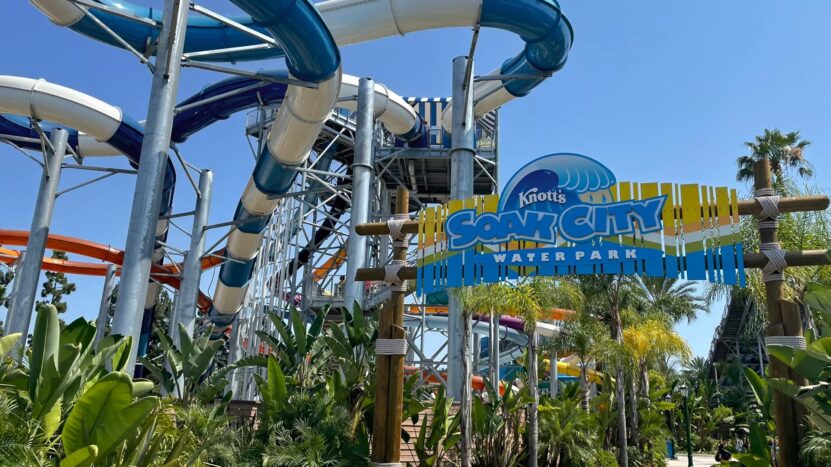 Associated with the famous amusement park, Knott's Soak City is one of the largest water parks in the country. There are actually three of the Knott's water parks in Southern California. You will have your choice to visit either the location in Orange County, Palm Springs or San Diego.
No matter which location you choose, you're bound to have a wonderful time on your vacation. There are many attractions while visiting the Knott's Soak City. Among these attractions are the roller coasters and water rides such as the La Revolution, Rip Tide, Screaming Swing as well as the Wind Seeker.
The smaller children can also enjoy Camp Snoopy, where there are activities and adventures for the younger children. Park cabanas are available for rent while the park offers too many water slides and rides to count. It is no wonder why Knott's is one of the best water parks in Southern California.
Top 5 Reasons to Visit Knott's Soak City with your Family
1. There's Something For Everyone at Knott's Soak City:
Every member of your family will find something to do at Knott's Soak City Water Park, which is something I appreciate.
I don't do water slides or much swimming, but I did have the finest time unwinding as I drifted down the lazy river in an inner tube.
There are numerous extremely high water slides that are sure to keep your heart racing for those who want more exhilarating experiences.
Finding something enjoyable for young children and teenagers in the same location is uncommon.
2. It Is Affordable
Summertime activities can add up quickly. Knott's Soak City is relatively inexpensive when compared to other theme parks in the region.
You can get tickets just to Knott's Soak City for $47.99 or upgrade to a 2-day ticket where you can also go to Knott's Berry Farm for just $94.99.
And if you plan on going to Knott's Berry Farm or Knott's Soak City 3 or more days, you can save even more by getting a Gold Pass for $143.
Plus, the hotels in the area are also affordable, so it makes a budget-friendly California vacation.
3. Their Food
No, really! Although most theme parks aren't recognized for their cuisine, we had a great lunch here.
I had some of the best shrimp ceviche! It was super cold and hit the spot on such a hot day. And it came with a huge amount of chips, too!
4. Knott's Soak City Life Guards are Attentive
The thing about family-friendly attractions that irritates me the most as a parent is when children are going wild and no one intervenes.
Clearly, it is the responsibility of the parents to supervise their children, but I especially admired how the employees at Knott's Soak City immediately apprehended children who attempted to climb the water slides or who were running on the wet pavement.
Also, the lifeguards kept a watchful eye on visitors at all of the attractions, particularly the lazy river.
The fact that there were extra eyes on my children as well as those of everyone else made me feel safer.
5. It Feels Inclusive
The inclusive atmosphere of Knott's Soak City was something I really liked. Everyone could go around in their swimwear without feeling self-conscious, regardless of their size or shape.
I believe a major factor in this is the abundance of entertaining activities; nobody is devoting any time to people-watching!
Yet you can still enjoy yourself at Knott's Soak City if you require a wheelchair. They have a water wheelchair for people to use at Tidal Wave Bay or Gremmie Lagoon.
Moreover, there is a pool lift outside the lazy river for anybody who require it.
And like I said before, there's something for everyone to do!
2. Raging Waters
This is the largest waterpark in Southern California, located on fifty beautifully landscaped acres in San Dimas, California. This waterpark has at least thirty-six water slides and attractions. Raging Waters boasts the famous Flowrider.
The Flowrider allows riders to ride atop a surfboard or boogie board in an attempt to successful surf. Another hit at Raging Waters is the Dark Hole, a water slide that takes place in complete darkness. Among the many attractions, you will also find the Dr. Von Dark's Tunnel of Terror, the Amazon Adventure, the Bermuda Triangle and the Thunder Rapids.
No matter what your tastes are from the milder rides to the thrill rides, there is sure to be something for everyone. This is a great place to visit either for a water park vacation or just for the daily visit. This is something that the entire family will enjoy.
Top 5 reasons to visit Raging Waters With Your Family
1. You'll experience California's first hydromagnetic roller coaster
Aqua Rocket, a ride that combines the thrills of a water ride with the adrenaline rush of a roller coaster, was presented by Raging Waters last summer.
Visitors travel on rocket-style rafts that carry them uphill before plummeting them at up to 30 mph.
2. You can visit daily through Labor Day Weekend
With extended hours up to 7 pm during the height of the Summer, Raging Waters offers families daily splashtastic fun so you can visit when it's convenient for you.
3. Food Is Good
You don't normally go to a theme park for the food, and frequently, a day of thrills is exchanged for mediocrity that feeds your hunger between rides on Neptune's Fury and Wave Cove.
You'll be pleasantly surprised by Raging Waters' extensive menu, which offers organic alternatives at Volcano Beach Cafe as well as vegetarian, vegan, and gluten-free selections all across the park.
For cool afternoon snacks, you can also discover frozen favorites like Jamba Juice, Dippin' Dots, and Yogurtland.
4. There Is Water Attraction For Everyone
Everyone can enjoy a water attraction. Do you enjoy high-risk activities? One of the steepest vertical drops in the nation, Drop Out, is a must-try for an adrenaline sensation.
You will descend seven stories in just 4 seconds, traveling at high to 40 mph.
Do you like to spend the day in the sun? Take an inner tube to Amazon Adventure's quarter-mile Tropical River and cruise down it.
5. It's more affordable than you think
Whether you visit Raging Waters once this summer or every week until the school bell rings, a day at one of the Top 10 Water Parks in the US has never been more affordable.
You can save $8 on general admission tickets Monday through Friday and $3 on general admission tickets Saturday and Sunday.
You'll enjoy the best value if you visit Tuesdays through August 30th ($29.99).
You can also find a number of discounted, multi-day tickets online at RagingWaters.com.
3. Dry Town Water Park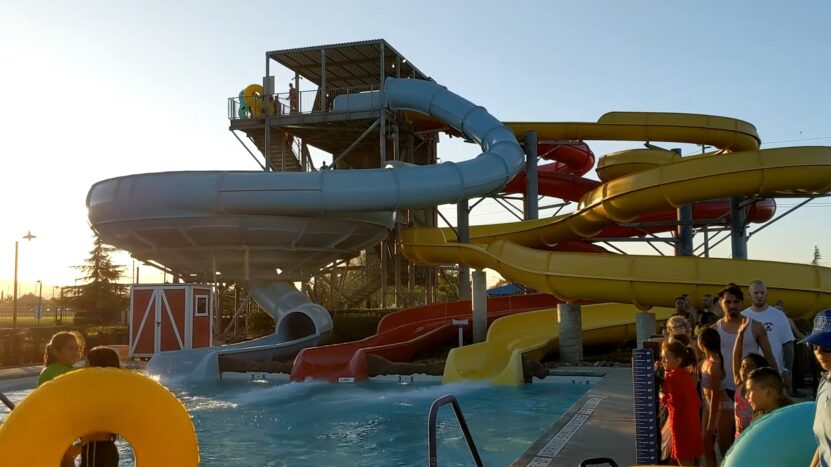 Found in Palmdale, California, Dry Town is one of the most affordable water parks in Southern California. There are many attractions to choose from such as the Big Rock River, the Devil's Punch Bowl, Rattlers Revenge, and the Wildcatter.
No matter what your tastes such as mild to the thrill seeker, you're bound to find something for everyone. For children under the age of twelve there is also the Little Miner's Camp, where the children can run and splash through the mini waterpark.
A visit to the water park can be in combination with one of your Southern California romantic getaways for a little added adventure. Whatever you do here, you're bound to have a wonderful time and be talking about your vacation for month's to come!
Top 5 Reasons You Should Visit Dry Town Water Park
1. Exciting Water Rides
Dry Town Water Park features a variety of thrilling water rides, including the Devil's Punch Bowl, Dusty's Mineshaft Racer, and the Wild Woozy. Whether you are looking for a heart-pumping adrenaline rush or a more relaxed ride, there is something for everyone at Dry Town Water Park.
2. Family-Friendly Attractions
Dry Town Water Park also offers a range of family-friendly attractions, including the Little Miner's Camp, a water playground designed for younger children, and the Lazy River, a relaxing ride that allows you to float along the water and soak up the sun.
3. Fun Events and Activities
In addition to its regular attractions, Dry Town Water Park also hosts a variety of special events and activities throughout the season, including dive-in movie nights, live music performances, and even a special event for dogs called "Bark at the Park."
4. Affordable Pricing
Visiting Dry Town Water Park won't break the bank, as the park offers affordable pricing options for both single-day and season passes. They also offer discounts for seniors, military personnel, and groups, making it an accessible option for all visitors.
5. Safety and Cleanliness
Dry Town Water Park is committed to providing a safe and clean environment for all visitors, with lifeguards stationed throughout the park and strict sanitation protocols in place. Visitors can feel confident knowing that the park is dedicated to ensuring their health and safety during their visit.
4. Island Water Park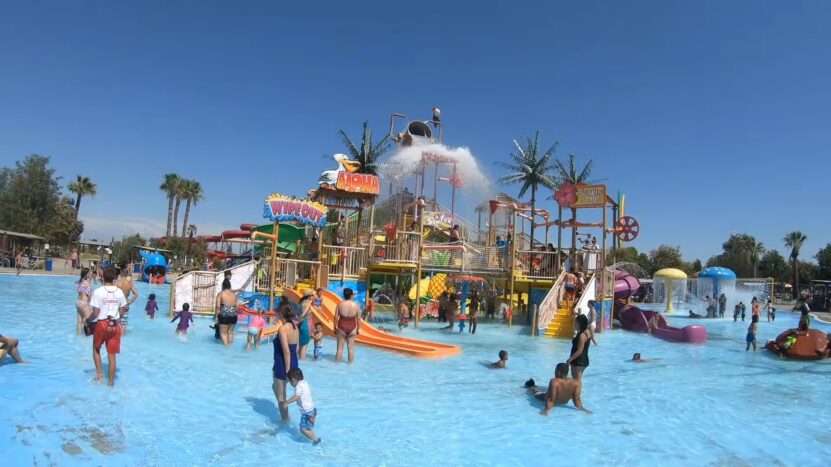 Fresno offers a water park with fun for the entire family. Island Water Park features a giant Copacabana Cove, which is a huge wave pool. Children's areas and water slides make the Island Park one of the more popular water parks in Southern California.
You can have your child's birthday party or take them to the children's park. You can also take the around the world without leaving the park by trying out the different international water rides. These rides include the North Shore Wipeout, the Singapore Tsunami, the Tokyo Typhoon as well as the Acapulco Dive.
This is a great place for the entire family to reconnect while having a blast!
Top 5 Reasons To Visit
1. the Thrilling Rides
The Island H2O Water Park is full of tremendous thrills for the whole family to enjoy, from family raft rides to vertical drop slides.
A tube slide where you may select the music as you go is the Profile Plunge. a trap-door free-fall slide with a 360-degree loop called Brave Live Streaming.
Instead, try Follow Me Falls, a nearly vertical drop that will make you feel weightless.
2. Fun for kids
Child visitors will have a blast sliding down the slides in Candy Stripe Cove or splashing around in the Pelican's Paradise Splash Zone.
They can take a leisurely ride down Chat Creek, the park's lazy river, or they can test out Level Up's obstacle course and water basketball court for a more daring adventure.
3. The Adults-Only Pool
It's not only for kids, either! For guests 21 and older, Private Domain is a pool that is the ideal setting for some downtime.
The nicest part of all is that it's just next to the Tag Shack bar! There are deck chairs to sit on and private cabanas to rent for the day.
4. The Customisable Experiences
You can alter the lighting or select the music playlist from your wristband on many of the attractions to make it more enjoyable for you.
This implies that you can ride repeatedly and enjoy a unique experience each time!
What's more, you'll be able to relive the rush as much as you like with on-ride video recordings you can download straight to your phone.
5. You Can Earn Points Throughout the Day
Every ride you take throughout the day will contribute to your point total! As you get in line, just tap in with your wristband, and your points will be added to your account.
The more points you earn, the more prizes you can redeem at food and merchandise locations around the park.
But make sure you use any rewards you get, as you won't be able to save them for your next visit!
5. Magic Mountain Hurricane Harbor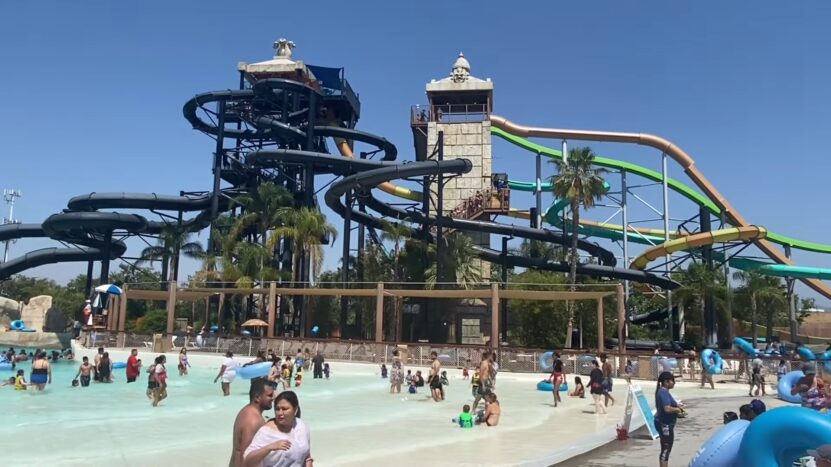 Opened in the early summer of 2010, Hurricane Harbor features some of the most exciting water adventures in Southern California. This waterpark is located in Los Angeles and is part of Six Flags Great America.
There are many water rides to choose from at Magic Mountain Hurricane Harbor. Among these are the Tornado, the Black Snake Summit, Lizard Lagoon and the Water Slide Complex. This is just to name a few. There is something here for everyone.
The park is also located conveniently near several hotels. You could spend either your entire vacation or just a day or two. This would be a wonderful way for the entire family to spend their vacation.
Top 5 Reasons To Visit With Your Family
1. Safe and Family-Friendly Environment
Safety is a top priority at the park, with trained lifeguards stationed at every attraction and ride. The park is also designed with families in mind, offering a variety of attractions and amenities that cater to all ages. This ensures that everyone in the family can have a fun and enjoyable experience.
2. Convenient and Accessible
Magic Mountain Hurricane Harbor is located in Valencia, California, just a short drive from Los Angeles. This makes it a convenient day trip for families staying in the area. Additionally, the park is easy to access by car and public transportation, so you won't have to worry about navigating unfamiliar roads or getting lost.
3. Variety of Rides and Attractions
The park offers a wide variety of water rides and attractions, from thrilling slides to family-friendly pools. This means that there is something for everyone to enjoy, whether you have young children or older teens.
4. Private Cabana Rentals
As a parent, it can be challenging to find a quiet and comfortable place to relax while your kids are enjoying the water rides. Fortunately, Magic Mountain Hurricane Harbor offers private cabanas for rent. These cabanas provide a shaded and comfortable space to rest and recharge, with amenities such as lounge chairs and a mini-fridge.
5. Convenient Dining Option
The park offers a variety of dining options, from classic theme park fare to healthier options like salads and fresh fruit. This means that you can find something to satisfy everyone's cravings without having to leave the park.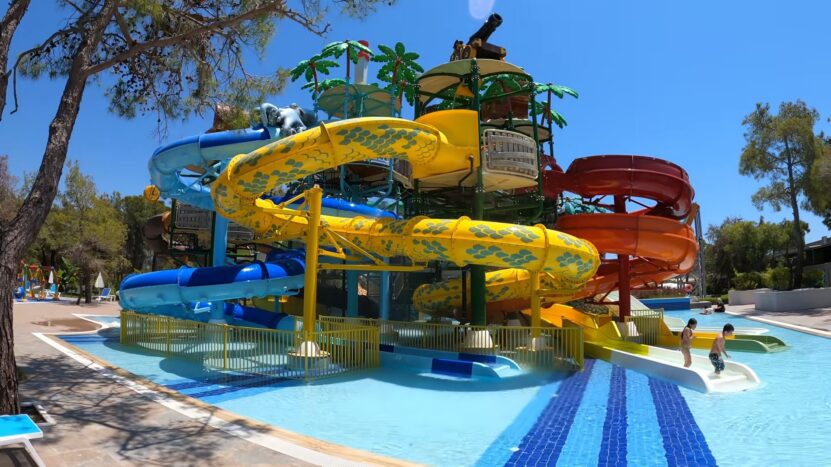 Tips for Spending a Day at the Water Park
1. Be Prepared.
Here's a handy-dandy basic list of items you're going to need for a day at the waterpark:
Towels
Swim diapers (if you have any non-potty trained family members)
Waterproof sunscreen
Lots of water (I recommend a water bottle for each member of the family)
Lots of snacks (you are allowed to bring your own food into the park, and remember: objects in water appear hungrier than on land)
Extra clothes (and a separate bag to throw the wet ones in)
Band-Aids (you never know)
Baby wipes (always come in handy)
Waterproof watch for teens, so they don't lose track of time
A book (that you likely will not have a chance to read)
Change, if you wish to rent a locker and not cart your things around all day
Shampoo, soap, etc., if you plan on showering after slide time
2. Do Your Homework
First thing's first – If you're going to pack the car with gear and snacks and excited children to head to the waterpark for the day, to avoid disappointment (and meltdowns), you should make sure there will be age-appropriate activities for all members of your family.
While some parks definitely has activities for all ages, some rides do have height restrictions, which is good to be aware of before you land.
That way, you can do your best to strategically avoid the rides that your littler family members can't go on, while really talking up the ones they can enjoy.
3. Strategically Choose Your Date
Summer days are hot, and waterparks are crowded. It is simply a fact. If you dislike crowds, you might want to go during the week as opposed to the weekend.
On a hot Wednesday in July, it will still be packed, but lines will probably be less than they would be on a Saturday.
Moreover, the hour or so before the park shuts will have less lineups!
4. Dress for The Park
One thing that is simple for parents to accomplish is to prioritize everyone else before themselves (all the lists). But you also want to feel at ease in the park!
Even if you don't intend to use the pool or the slides, you'll probably get wet if you're dragging kids around the park, so bring flip flops, comfortable footwear for walking about in, and a change of clothes for yourself.
Also, you want to make sure your swimsuit is strong enough to withstand pulling from babies or young children, if you get what I mean.
5. Prepare to Bribe Your Children to Leave
Perhaps the best tip for waterpark survival is to have an exit strategy because your kids are not going to want to leave
Maybe, you should have a surprise waiting in the car or back at the cottage for them. You'll have to use your own discretion here, but trust me, if you want to keep the happy vibes going, you should come up with a fun ending for the day.
Conclusion
Try to remember that the goal is to create lasting experiences, so plunge in with the kids rather than simply observing from the deck. Have fun with them! Riding the slide is fun. Gather with your friends at the leisure pool.
This is when getting a locker rental is helpful! Put anything there that you don't want to lose, then enjoy it with your loved ones. You won't regret the time you spend playing with your children, as clichéd as it may sound.
Unless you disregarded the swimsuit rule I outlined before and found yourself in a situation where your clothing malfunctioned! Your children would be sure to keep that memory in their minds forever.
Have fun with your family at the water park!
If you find this article useful, and you are interested in discovering more about different travel destinations, check out our other posts for more information and inspiration: