Winter is coming, and for all of us snow sports lovers, it's the most wonderful time of the year. If you're in Columbus, Ohio, you might be wondering where to find the best slopes for skiing and snowboarding. Well, you're in luck!
Columbus is surrounded by a variety of options that cater to all skill levels. Today we'll show you the 10 most wonderful places for snowboarding and skiing near Columbus in 2023. Buckle up; it's going to be a thrilling ride!
1. Mad River Mountain
Mad River Mountain is not just another ski resort; it's a winter wonderland that promises an unforgettable experience. Personally, I couldn't get enough of it! Located just 53 miles from Columbus, it's the perfect getaway for a day or two.
Opened in 1962, Mad River Mountain is one of Ohio's largest ski resorts. With 20 trails spread across 144 acres, the resort offers a variety of runs, from bunny hills to expert-level slopes. The resort is also home to the Avalanche Snow Tubing Park, which is the biggest in Ohio.
This mountain is often cited as the best place to ski in Ohio, thanks to its affordable prices and well-maintained resort areas. The resort offers several terrain parks, and one of them, Capital Park, was even voted one of the best in Ohio.
Special discounts for Ohio college students and live music events add to the allure.
2. Clear Fork Adventure Area
Clear Fork Adventure Area is a hidden gem located near Mohican State Park. With a distance of 67 miles from Columbus, it's an ideal spot for beginner and intermediate riders. Also, this place is perfect for a weekend getaway!
The resort is relatively small, with just nine trails across 60 acres, but don't let its size fool you. Clear Fork Adventure Area offers a variety of activities, including tubing, skiing, and snowboarding.
The trails are wide and well-maintained, making it a great place for beginners. For those looking for a bit of a challenge, the resort offers two harder runs: Main Street and Logan's Run. These runs are recommended for more advanced skiers and offer a thrilling experience.
The resort doesn't offer on-site accommodations, so plan your stay accordingly.
3.Boston Mills/Brandywine
Boston Mills and Brandywine are sister resorts located just 128 miles from Columbus. These resorts offer something for everyone, from beginners to advanced practitioners. The resort system comprises 18 trails and 3 terrain parks, catering to all skill levels.
Boston Mills is more beginner-friendly, while Brandywine is better suited for snowboarders and advanced skiers. The resorts also boast snowmaking capabilities, ensuring a consistent snow experience.
One of the unique aspects of these resorts is Ohio's steepest slope, Tiger. This challenging run is a must-try for any thrill-seeker. Although there are no on-site accommodations, the resorts are well worth the drive.
4. Alpine Valley
Nestled in Ohio's snow belt, Alpine Valley is a resort that promises the most natural snow in the state. Located 158 miles from Columbus, it's a bit of a drive but well worth the trip for snow enthusiasts.
Alpine Valley is a smaller resort, featuring 11 runs that cater to all skill levels—beginner, intermediate, and advanced. Unlike many other resorts, most of the trails here are wooded and ungroomed, offering a more natural skiing experience.
The resort places a significant emphasis on family-friendly activities. On Saturday nights, they offer special discounts for beginners, making it an excellent place for families and those new to snow sports to learn and have fun.
5. Seven Springs Mountain Resort
Known for its variety and adrenaline-pumping slopes, Seven Springs Mountain Resort is located 225 miles from Columbus. It's a bit of a journey, but the experience is unparalleled.
Seven Springs offers 33 ski trails that range from beginner-friendly bunny hills to challenging double black diamond slopes. The resort also features several terrain parks for those looking to "get some air." For beginners, the resort offers both group and private lessons, along with gear rentals. T
en different ski lifts are scattered across the park, making it easy to get from one trail to another. Although there are no on-site accommodations, you'll find several lodges on the resort grounds where you can take a break.
6. Hidden Valley Resort
If you're looking for a mountain escape, Hidden Valley Resort is your go-to destination. Located 222 miles from Columbus, it's a haven for beginners looking to improve their skills. Hidden Valley features 26 runs, with 27% of them being beginner trails.
It's one of the ideal ski resorts near Philadelphia for those looking to advance from beginner to pro. The resort offers reasonably priced lift tickets and participates in a local network along with Laurel Mountain and Seven Springs Mountain.
One ticket grants you access to all three parks over a weekend, making it a fantastic deal.
7. Laurel Mountain, PA
Laurel Mountain Ski Resort is more than just a ski destination; it's a piece of skiing history. Located 237 miles from Columbus, this resort was designed by the famous European skier Johann "Hannes" Schneider and is home to Pennsylvania's steepest slope.
The resort is situated in the heart of Laurel Mountain State Park and offers 20 trails. It's most famous for its double-diamond Lower Wildcat slope, which is the steepest in Pennsylvania.
It is also a sister resort with Seven Springs and Hidden Valley, expanding your options for a varied skiing experience. One of the unique aspects of Laurel Mountain is its lodge, located at the top of the mountain.
The lodge offers stunning views of the surrounding hills, making it a perfect place to relax after a day on the slopes.
8. Liberty Mountain Resort, PA
Liberty Mountain Resort is a family-friendly destination located 357 miles from Columbus. Though it's a bit of a drive, its comprehensive ski packages and proximity to Philadelphia make it worth the trip. I was particularly impressed by the lessons offered at the resort.
As someone who's always looking to improve, the instructors there really helped me up my game. The place offers a fantastic place to learn to ski among friends and family.
It provides various specials to encourage repeat visits, including the popular 3X deal, which offers a steep discount on lift passes and optional rentals.
The resort is part of a network that allows the 3X deal to be valid at several other resorts, making it a versatile option for those looking to explore different slopes.
Beginner lessons, rentals, and packages are also available, ensuring you're in good hands.
9. Blue Knob All Seasons Resort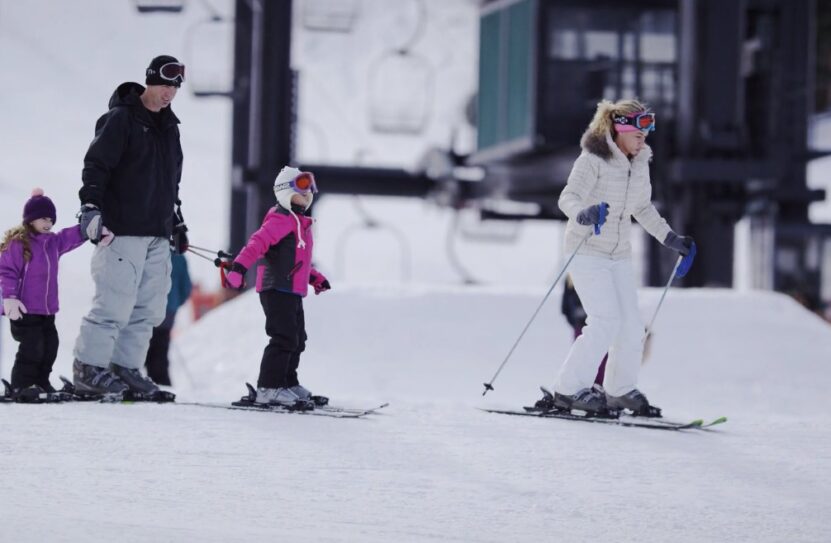 Blue Knob Resort is a year-round destination located 294 miles from Columbus. It's one of the few resorts that offer cross-country skiing, making it a unique choice for winter sports enthusiasts.
The resort offers a variety of snow sports, including downhill and cross-country skiing. Day use and rental fees for the Nordic/cross-country ski area are very affordable, making it accessible for all visitors.
Lessons are available for both snowshoeing and cross-country skiing, allowing beginners to learn new skills and techniques. If you find that cross-country skiing isn't for you, you can always hit the regular downhill trails on skis or a snowboard.
10. Tussey Mountain Ski and Recreation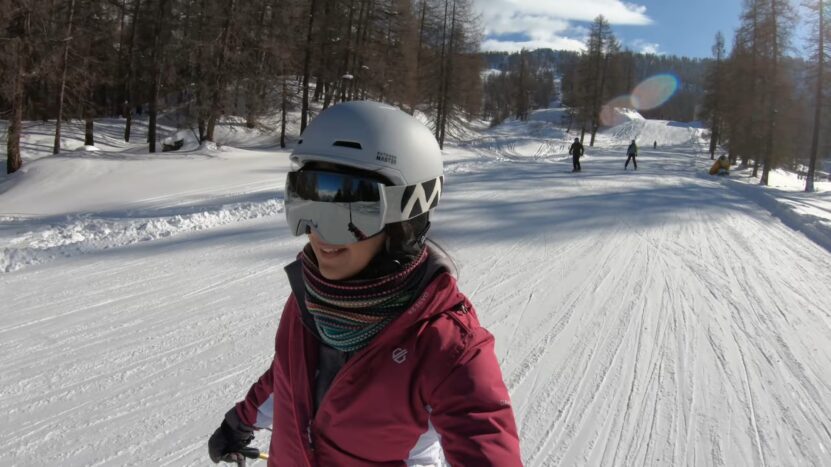 Tussey Mountain is a community-centric resort located 330 miles from Columbus. Though it's a smaller resort, it offers a cozy, community feel that makes it a unique destination for skiers and snowboarders. You'll experience a true winter fairytale!
The park is small, featuring just 7 runs, mostly split between blues and greens. Despite its size, Tussey Mountain is known for its strong community ties and offers various year-round events and programs, making it more than just a winter destination.
For advanced skiers living nearby, the Tussey Mountain Alpine Racing Team offers a competitive environment for skill improvement. The resort also features an amphitheater that hosts various events, including the locally famous WingFest, making it a year-round attraction.
FAQs:
Can I rent equipment at these ski resorts, or do I need to bring my own?
Most resorts offer equipment rentals, including skis, snowboards, boots, and helmets. Rental prices can vary, so it's advisable to check the resort's website or contact them directly for the most current information.
Are there any resorts that offer discounts for group bookings?
Many ski resorts offer group discounts for larger parties, such as family gatherings, corporate events, or school trips. The discount rates and group sizes required can differ from one resort to another, so it's best to inquire directly with the resort for specific details.
Are there activities for non-skiers?
Absolutely! Many resorts offer alternative winter activities like snow tubing, snowshoeing, and even winter hiking trails. Some resorts also have indoor amenities like spas, restaurants, and shops for those who prefer to stay warm.
Do these places offer night skiing?
Yes, some resorts near Columbus offer night skiing, allowing you to extend your time on the slopes. However, it's best to check with each resort individually for their specific night skiing schedules and availability.
What is the best time of the year to go skiing near Columbus?
The ski season here typically starts in late November or early December and can last until March, depending on the weather conditions. January and February are often considered the peak months for skiing due to more consistent snowfall.
Summary
If you're contemplating where to go for your next winter adventure, I can't recommend these places enough. Each offers something unique, ensuring that no two trips will ever feel the same.
Trust me, the drive is worth it, the slopes are inviting, and the memories you'll make are priceless. Here's to more snowy adventures in 2023!